Happy Haloween everyone!
Did you all have a suitably spooky experience? Did you get all dressed up?
I did!
On Saturday night we had a Halloween Party, to which I dressed as "The Slenderman".
Here's what I hope is a suitably convincing photo of me as slenderman (or as I was calling myself, SlenderChick :p)
If you haven't heard the stories of the Slenderman, and like a good scary story, look him up! Watch the MarbleHornets series on YouTube if you have the time.
Today however, I got gored up and walked..or shambled.. up to face my biggest fear. Zombies. The Glasgow Zombie Walk saw roughly 1000 people, ambling, running and groaning, blood stained and with severed limbs through Kelvingrove Park.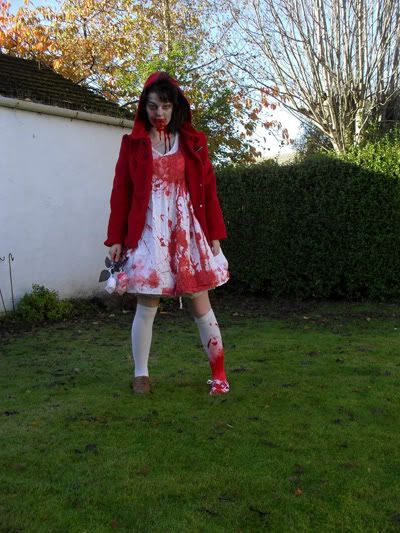 I went with a Little Red Riding Hood look, along with the classic red and white guro look.
There were a lot of photographers and even TV cameras at the walk, and some of the professional shots of me appeared online! yay:
All in all, it was superb fun and I probably won't be as afraid of zombies as I was before from now on. Because being a zombie is FUN!
I did it, I faced my phobia and joined the Zombie masses. So now, I challenge you readers to do the same! Face something you fear, even if it's just a little thing. Do it!