There is no denying that Lolita is an expensive hobby. You can expect to spend £100 on a dress, minimum. £20 on one hair accessory or one pair of socks. Then there's your handbag, and shoes, and of course underthings!
However, there are ways to save money, the most obvious being:
buy secondhand.
The Sales Comm on LJ is a good start here, you can buy things directly from other girls who don't want/dont fit/otherwise can't keep some of their lolita belongings. with patience, you can find some very nice things appear on there for very reasonable prices.
But be careful, try and find out what the retail price for an item was before buying it on Egl_Comm_sales, because some people sell things for the same price as it would be new, even though it's second hand. And some popular or 'rare' prints and older items can be much much more that they were new. This is because of their rarity though.
The next step would be to buy things on
Auction
.
Yahoo Japan auctions (or Y!J), are full of lolita items. But you will usually need a shopping service to handle it on your behalf.
I personally use Crescent Shop, I've found them very easy to use and communicate with. However, their fees can be quite steep and I was looking at other options. Crescent Shop currently have plans to re-vamp their system, and according to the email with details on it, the "Grand Opening: Sep 28(Tue) at 9:00am". They will no longer take an up-front deposit before you can bid, and other shipping options will be avaliable. This is quite good news, considering EMS is expensive. And I know from the time I moved home from japan, SAL is a great, cheap sevice to send large parcels.
So, perhaps once we see what the new site and system is like, I'll decide what to do.
Other auction services include Celga.com and Rinkya.com, but having never used them I can't say what their service is like.
A word of warning. Auctions can be addictive. It's very very easy to rack up a huge bill on several "very good deals!". So just, plan your budget, and be careful :)
But what about out there in the offline world? What if we live in places not lucky enough to have physical brand stores?
Offbrand
loliable items can be found just about anywhere. And as luck would have it, floral and lacy items are very fashionable at the moment. (Okay, not to the Lolia extent, but it makes offbrand shopping much easier).
Cute socks, hair bows, jewlery and even simple blouses and skirts can be found in high street shops. Although they can be a little too short, or thin, sometimes to wear on the outside I've found offbrand ruffled skirts that make great underskirts or modest petticoats :)
It's all about finding things that 'work', you're never going to pass off a lace-paneled shirt and floral miniskirt as Lolita. Buut, the high-collared shirt, the slightly longer floral skirt and the lace knee-skirt underneath it.. and you might have a passable everyday, casual-lolita look.
Last but not least, second hand AND offbrand,
Charity Shops/Trift Stores
.
Charity shops are an absolute goldmine of vintage, retro, or just downright unusual clothes. Of course, for very low prices. However, it will take patience and trial and error to find rare beauties in these shops, because of course they have a lot of things packed in.
Going through things in charity shops can be fun, you never know what you'll find. I've made more than a few finds in my local Oxfam shop, including two velvet bowties, a monocle and my absolute favourite skirt.
The plan was to take pictures of these things individually to show you them... but where's the fun in that? Here's me modeling them all at once: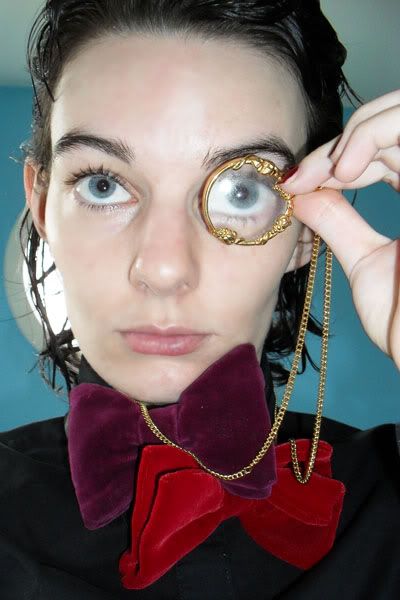 (this is not supposed to be a serious co-ordinate :p)
These things are more boy-style or dandy than lolita, but you get the idea. Those bowties are such great acessories, and they need not be worn exclusively around your neck. They are quite versitile!
And the Skirt:
(best photo I could get, sorry)
That's black velvet brocade over green silk. This skirt is quite long, although not as long as it looks in the photo, that's due to the high angle. It's deffinately suited to a classic/almost aristocratic style though. And I adore it!
Nearly my entire lolita wardrobe is secondhand or offbrand. In fact, I have... 2 items bought new, a skirt and a bag (both on sale at the time).. everything else is from LJ sales or auctions, or offbrand stores.
Happy shopping!