I want to talk a little bit about stereotypes, specifially the british stereotype. Most people, when asked (or at least, the people I've asked..lol), will say that the two things you would associate with britishness is a fondness for tea, and watching Doctor Who.
Once and for all, I want to clear this up. These stereotypes are ABSOLUTELY TRUE.
It's the MIDDLE of SUMMER and I still drink hot tea during the day. Every weekend, my family and I sit around the TV to watchin Doctor Who.
Always have, allways will, hopefully ;)
It's an ingrained thing. Most children are given 'baby tea' to try when they're little. (baby tea is just tea with extra milk, and sometimes sugar).
Then, you grow up drinking it and adapting it the way you like. For example, my Grandma gave me Baby tea with buscuits every time I visited her, since I was pre-school aged.
I was raised on it.
(Now, there are exceptions to this rule, obviously.. my Grandma herself for example didn't drink tea.. but if I made a point of that the tone of this post would be ruined wouldn't it? :p )
Doctor Who is a cultural staple here. If you went up to any random person with a plunger and shouted "EXTERMINATE!", they'd laugh and assume you were supposed to be a Dalek. In most other countries, that probably wouldn't go over so well.
My parents have always watched Doctor Who, ever since it started in the 60's. This is another thing I was simply born into! And during the time it wasn't on, we watched old episodes that they had on video.
(again, there are exceptions. My Grandpa, for example, only drinks coffee and doesn't even like Doctor Who! But again, I'm trying to make a point ;)! )
This brings me to the reason I started making this post in the first place.
THE SEASON FINALE OF THE CURRENT DOCTOR WHO SEASON IS ON TOMORROROW!
And I am exciiiited about it.
Most of the Doctors have a gimmick, or a quirk, or a phrase, or whatever you want to call it that is like their signature. (Jellybabies, for exapmle? Wearing celery? The word "FANtastic!")
The latest one seems to me to be, "bowties are COOL".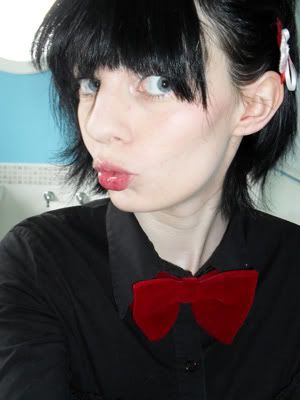 the joke, of course, is that bow ties certainly are not cool. But that has never stopped me being a sucker for a bowtie, and this weekend I've decided to make a point of wearing them! To celebrate the Dr Who finale :P
Who'se with me?!
(p.s, I dyed my hair again. You can see in the photo. No more purple bit)