I started this year as I mean to continue, so here's some more Lolita.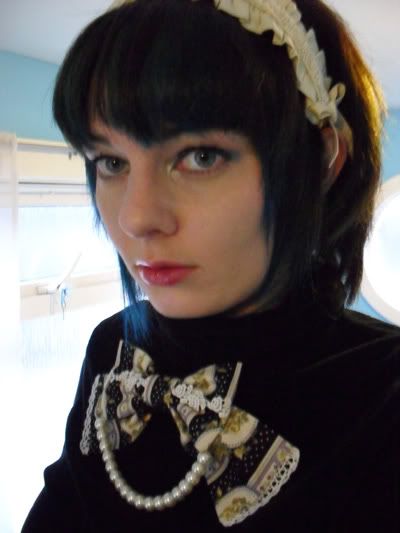 Now, I had some trouble taking photos of the full outfit. This shot shows my blue eye makeup (to match my hair, sort of ;) ), Mary Magdalene katyusha and neck bow.
I like that hair band a lot, because it doesn't hurt my head. They usually do, but this one is very flexible!
Now, as much as the white-door background works for showing off photos, it gets boring if I have the same setting for all my photos doesn't it? Unfortunately there wasn't really any other suitable places. But determination made me go for a different angle, and this is the most interesting photo I had that still showed off my skirt:
The neck bow was originally attached to this skirt, but they make a lovely set seperated.
And the shoes: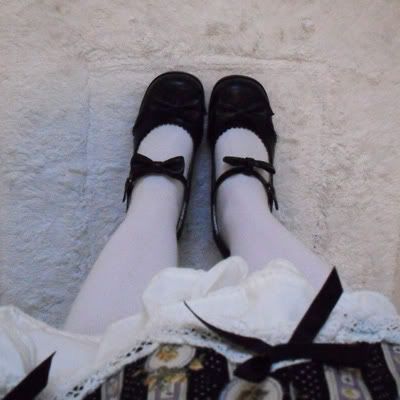 Metamorphose high heels. They're cute and comfy, I plan on wearing these as much as possible in the future!
My usual style is this black-and-white, classical look. It suits me, and I do like it.
But sometimes you just have to mix it up! So this is what I wore to my friend's birthday party:
(pokerface! get it?)
Unfortunately I didn't get a photo of the whole outfit, but I'm wearing a red angelic pretty JSK, black and red rose socks and red heeled shoes with this hair and makeup.
I like to think that the giant Metamorphose bow works with the pink wig, it looks a little out of balance with my usual short hair.