A relatively recent japanese trend is the Usamimi (rabbit-ear) headband. It is not widely accepted as a Lolita trend, and it falls more into gal(?) or other japanese fashions I think.
But I think they are just adoreable! And Baby The Stars Shine Bright recently brought out a lolita version of this type of head band (shown abouve). However, it's a bit.. much isn't it?
So, with a little reserarch I found Violet LeBeaux's tutorial on how to make your very own usamimi headscarf!
http://violetlebeaux.com/2010/04/tutorial-making-a-bunny-hair-scarf/
It's so simple.. and I already had all the items. Odd sock, check, wire left over from sculpture class, check, scissors and thread and sewing needle, check.
So i followed the tutorial exactly, and made this: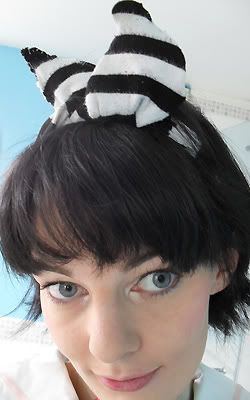 bunny bunny <3
Now, I'm no seamstress. In fact, this is the first thing I've successfully sewn. Ever! And it took me five hours.. on and off.. of mistakes and getting annoyed with it... to eventually finish it. But I'm glad I did!
Here's the outfit I wore it with after making it:
(sorry it's not at all clear, I was having a bad-photographer-day or something!)
This is just to illustrate the combo of stripey socks with stripey usamimi.
Is that overkill? I have a weakness for stripes...
Anyway, I hope you like my Usamimi Hairband, and deffinately check out Violet LeBeaux's tutorial, it made it so simple, and it's so cute <3