hair, hair, hair. Hair style is every bit as important in any fashion as the style of your clothes and makeup. Fortunately, most hair types can be made to suit most styles.
But what about lolita? for most people, it just doesn't look right if you don't have long hair. A lot of people insist on having a fringe (bangs).
In fact, the wearing of wigs has become immensely popular in Lolita fashion over the last while, probably because of the ideals of long curly hair, that most people cannot achieve naturally.
Now, I don't wear wigs. Thats not to say that I dislike them, or think people who do wear them are somehow wrong. I just don't like the way they feel on my head.
Also, I like short hair. My hair suits me short, or so Ive been told, it's easy to wash, dry and style. But it does that annoying thing that all hair does: grow.
My hair grows fast, and because I keep it short, it's more obvious when it does grow out.
The other day, I discovered that my hair has grown long enough for pigtails:
Okay, I admit, they're short and scruffy pigtails, but a braid is a braid and it shows that my hair is getting long again.
So, every few months I have this dilema. Do I get it cut again, or let it grow?
Will it suit me long? If I grew my hair out, would I get annoyed with it?
But I am a little bored of having the same hair style.
Usually, I decide to try and grow it out, then about a month later I get irritated with it and have it all cropped off again.
But what do you think? Grow it out, or cut it short?
What do you prefer in lolita fashion? Is long, lovely hair a must? Or does it just depend on what suits the individual? Does Lolita need more short haired girls?
What's your favourite style? Or dream hairstyle?
While we ponder these things, here's an outfit run down of what I was wearing that day: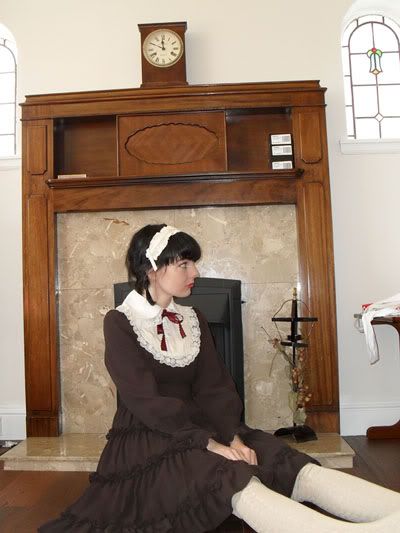 Mary magdalene headband,
Innocent world OP
offbrand socks
anna house bloomers.